Writing is something everyone does every day. Shopping lists, business emails, and even WhatsApp messages are examples of how we all always write. Why are you afraid to write something longer? Maybe because you know it is read and analyzed by the audience.
But even if you don't often write for people, that doesn't mean you can't get better over time.
Talent helps, but writing is essentially a technique. The practice will be perfect, and with time and effort, you can be sure that the part you write will improve every time.
This article shows you how to become a better writer and read your article better every time.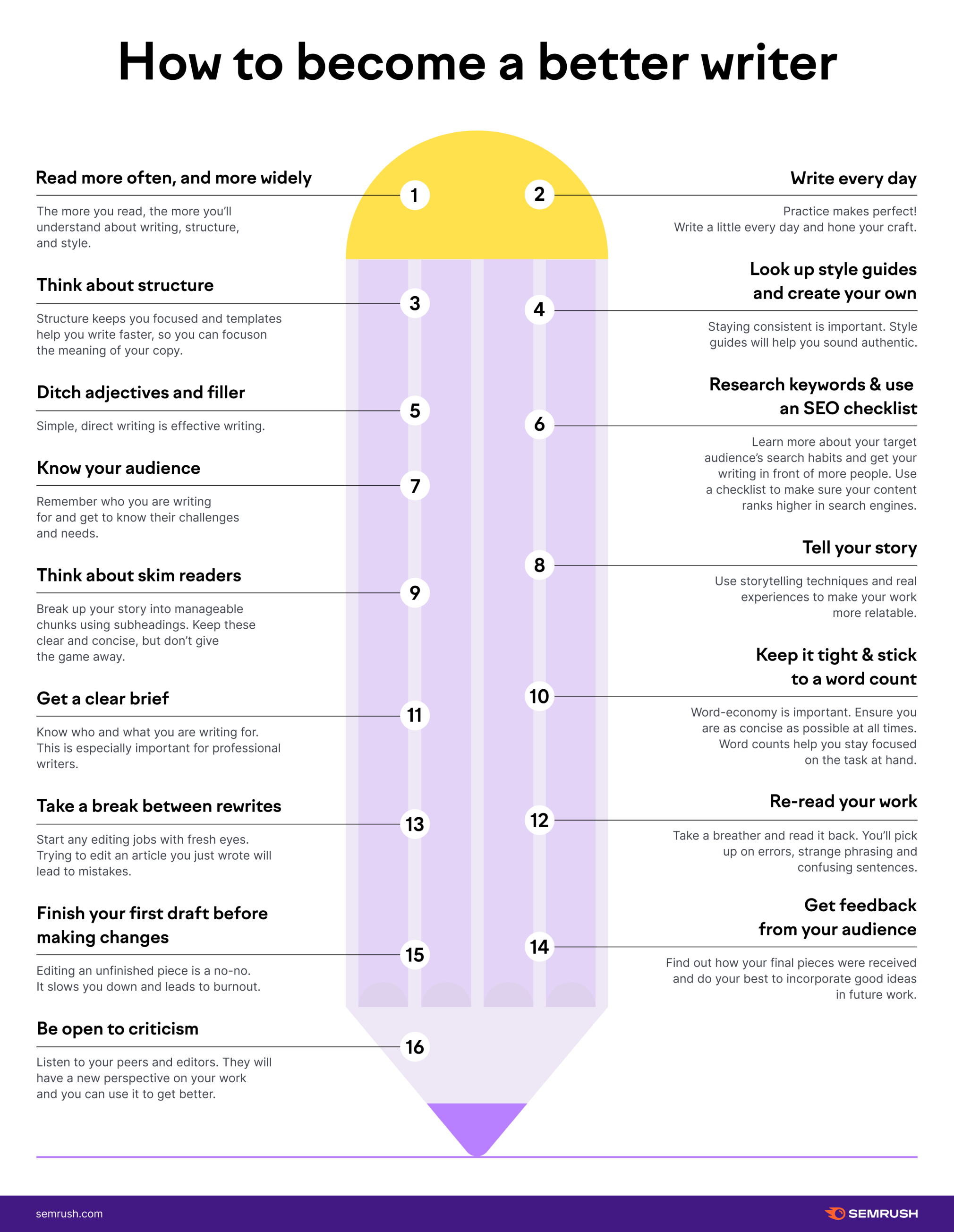 1. Read More Often, and More Widely
A writer should maintain a regular and broad reading habit to nurture their brain. A good reading habit is helpful to develop good writing and structuring skills in your content and articles.
Josh Krissansen, the managing director of copy-writing company Bloggerboy, says, "Read a ton. Reading fiction will help writers learn about narrative structure, while non-fiction from celebrated authors can give lessons on writing concisely and clearly."
Always give a read to your competitors' content like also some other brands. Analyzing your competition will also help you upgrade your content marketing, and you will also find some great articles to improve your writing decisions. Analyzing your competition can also improve your judging skills of telling good from the bad. It will help you avoid similar mistakes in the future.
2. Write Every Day
Writing needs practice. The more you write, the more perfect you will become. To become a prize-winning laureate is not easy unless you are among a very few fortunate people. One of the best tips to be a top writer is to write as regularly as you can.
Writing every day does not mean you will aimlessly write hundreds and thousands of words. Write little and often; it will help you become a more proficient blog writer. More practice will make you more perfect eventually.
3. Think About Structure
You can write good sentences and speak the language fluently, but your message can
be ambiguous or confusing if your structure is substandard. It is essential to organize
your content logically so that readers can consistently present your argument or idea.
Make your articles completely creative and decorative for your writers to read:
Introduction: This is a solid foundation. It not only encourages people to keep reading, but it also explains why you write and reinforces your point of view, thesis, or value proposition.
Every sentence and paragraph in the article must be based on the previous paragraph. Anything that seems unnecessary or does not move the plot should be removed or reconsidered.
Avoid bias, stick to the introduction, and include strong evidence if necessary.
Write a conclusion that summarizes the points.
4. Look Up Style Guides and Create your Own
When you start writing your content, you will have to set some ground rules for your brand's writing style. Bradley Thatcher says, "A brand style guide is a must … with the AP style guide as a backup for any queries you may have".
Some new content writing agencies such as the Associated Press (AP) and Reuters are well known for publishing concise thousands of pieces of content every day. Both these agencies have some rules like avoiding exclamation marks in place of other punctuation.
5. Ditch Filler and Adjectives
Overwriting does not mean great copywriting. Make your content simple, whether it is a social media post or a blog. Fancy vocabulary, adjectives and descriptive words should be used more precisely. To give your audience a clear image of your writing, always use simple words.
A senior content strategist at Retina, Mark Burdon, says, "Write to communicate your message, and not to impress the reader with your writing skills or broad vocabulary. Any writer looking to show off to their audience with grandiose text should cut it out."
Always use a spelling checker or Grammarly to identify mistakes. Do not make common spelling mistakes; this creates a wrong impression in the reader's mind. Avoid contractions in a sentence.
6. Research Keywords and Make Use of SEO Checklists
To get your content ranked among your readers, you need to know the correct keywords for the content. It is the most crucial part to find out the keyword. RaShea Drake, a marketing director for Essential Hub, says, "Do some keyword research in Semrush, or your tool of choice. Create a list of similar words, phrases, and questions. Use that list to build a cohesive outline that tells the story. It not only helps with that article or project but often gives more ideas of similar topics to cover."
7. Know Your Audience
To be a better content writer, one needs to maintain a good relationship with their target audience. You will have to know all your client's issues and what your client likes to read. You will have to develop the mindset of a business owner and understand how your services and products related to your audience's needs. It is also essential to communicate with your audience using voice and words familiar to them through apps or websites.
Always put effort into finding the right voice for your audience and writing a copy that resonates. Write all the contents in the voice suitable for your audience. Once you get the perfect tone, maintain it. Henneke Duistermaat, a founder of EnchantingMarketing.com, says, "Imagine you are writing for one person. To be a good writer, it is important to consider that person's aims and challenges, as well as the ways your writing can improve their lives. This is the starting point for empathy, and empathy for your readers makes your writing more engaging."
8. Tell Your Story
Storytelling is a fascinating manner of hooking your readers properly from the beginning of an editorial or piece of copywriting.
It allows the reader to recognize why something is crucial and how it pertains to their situation.
If you discover ways to construct characters, plots and storylines into your work, you could contextualize thoughts and assist humans in relating to your content.
An easy method is to construct actual patron reports into your writing. In multiple paragraphs, sharing their hassle or task and how they laboured is challenging to conquer. Then step out of the doors of the anecdote and relate it without delay to the reader.
Alternatively, dot short sentences at some stage in your reproduction or article to proportion actual reports.
9. Think About Skim Readers
Skimmers are people who want to get information quickly. Of course, you want to help them, but you also want to encourage people to read and absorb everything you write. Divide the article into short sections (similar to what is done in this guide).
Use clear subheadings to indicate what is important and what you expect in each section.
Clarify and avoid clickbait-style subheadings, but don't reveal secret sources either.
"Think of the reader skimming" gives you an indication of what to expect, but readers should also read the passages to get what they need. It reduces the risk of too many people leaving (or leaving) your site or articles too quickly.
10. Keep it Tight Improving Readability and Wordcount
Do not use 20 words if five is sufficient. You may want to be lyrical, but that doesn't mean that your potential audience wants to read it. Like simplicity, conciseness is the key to writing good sentences.
Emily Newton-Smith, marketing manager for Koru Kids' home nursery, says, "Less is more. After your first pass, take a break, and then go back and edit down."
Newton-Smith recommends exercises for authors to remove as many words as possible from a sentence. After that, everything should make sense. You can reset the word at any time if you want, but it's a good idea to use it as little as possible, she says.
George Orwell says, "Never use a long word where a short one will do if it is possible to cut a word out, always cut it out."
Concise text is the key to making your content easier to read. You need more readable content, but readability depends on your audience, goals, and message. Use the SEO Writing Assistant to track and improve your content readability rating. It can increase engagement and improve the user experience. It also helps maintain a consistent voice tone.
Maintaining the total number of words is just as crucial as concise sentences and proper readability. It may be helpful for you to work on assigning a word number to each section or idea.
11. Get a Clear Brief
Whether you write for your own company or your employer, a clear overview is key to good writing. At the briefing, you need to be clear about what your editors and customers expect from your work. It means that clear topics of conversation, structure, and word count must be agreed upon before writing.
Great writers can also have bad days and submit below-average articles, which, of course, can confuse those who request the play. Still, it will be much easier to prepare for failure if no clear briefing has been created.
Before writing for others, ask the editor and client what points they want to discuss, how many sections of the work, quotes, and length of the work. Ultimately, proper briefings can prevent hours of unnecessary work by authors and editors discussing long editing processes.
It's also essential to keep your work in mind when writing for yourself or your blog. Keep in mind that these tips are also helpful when writing for clients. Add the following:
Goal: Why are you writing this particular piece?
Count words: Stick to them to keep them concise.
Investigation: Investigate in advance and incorporate beneficial conditions, citations, and sources.
Reader Profile: Who it is and why they should be interested in your writing.
Call to action: What should the reader do after reading the article?
It also helps determine the phrases that encourage action. Therefore, make sure to start typing from the appropriate starting point.
12. Re-read Your Work
It is essential to reread the article before publishing it. You won't find mistakes or nasty polish phrases without reading the dissertation. Reading the paper aloud is also a great way to find sentence pattern problems. You can also find bad wording-this can discourage readers from completing your work.
Ber Leary says, "Always read your work aloud. Reading aloud is the only way to check the rhythm of what you've written and ensure that it flows naturally. Also, it's a great way to pick up on the kind of errors you might miss in a visual check."
Reading content to check the flow of grammar, punctuation, and phrasing is different from reading for fun. It will help if you read the text by slowly walking line by line, highlighting the areas that need to be edited, and then making changes. If you find the individual sentences good, reread the entire paragraph to make sure they fit.
Pay attention to the repetition and remember to be brutal in the cut. Always cut a word if you don't know whether to delete or keep it.
13. Take a Break Between Rewrites
Some authors also find it helpful to reread their work outside the work they were editing.
Osnat Naot, the Israel-based content strategist, says, "The best writing advice came from my first-year university professor, who made us promise to reread our own material after a good night's sleep."
Don't forget to take the time to reread your article. Editing edits that are so close to the deadline increases stress and reduces the effectiveness of bug checking.
14. Finish Your First Draft Before Making Changes
You can't confuse your writing more than making changes as you progress. Continue typing, except to fix the eye-catching misspellings. Do not rewrite the entire paragraph or change the article's structure until all ideas have been written down.
Making changes while playing may seem more efficient, but it can get you stuck in the complexity of your work. In practice, as we approach the end of the work, solutions to writing challenges often become apparent.
15. Be Open to Criticism
When it comes to writing, everyone needs feedback. It applies not only to Pulitzer Prize-winning authors but also to aspiring writers.
Authors are known for their soft skin, so please don't take reviews personally. It's not that you're a terrible writer. However, someone with more experience will use sharper phrases or cut out poor prose.
Joseph Saunders says, "One of the key aspects of becoming a better writer is being open-minded to criticism from others. Outside perspectives can be really useful for helping you grow and making sure you don't get trapped in your own style."
If you don't have access to an editor or can't complete a writing workshop, find more experienced friends and colleagues or other professional authors who are free to follow your content.
When you're ready, don't forget to say thank you. As an editor, reading articles, stories take a lot of time, so be sure to say thank you.
16. Get Feedback From Your Audience
Whenever possible, seek articles from people outside the author's circle. As a word mistake, it's straightforward to get stuck in a more detailed discussion about the use of semicolons or oxford commas. Moreover, feedback on the play's content and copywriting skills are most beneficial from potential audiences.
Deanna Berger, a senior content strategist for SEO at cybersecurity company Malwarebytes, says, "Get feedback on your work. Not just from other writers and editors, but from others in your company or industry. I love to get feedback from my product or technical colleagues on how I've explained security concepts to a consumer audience."
Where possible, push for constructive criticism from potential readers and customers as well; Berger adds, "Ask them to explain what they liked — and what they did not — in your latest piece."
Conclusion
Now you are ready to become a respected writer. Many people are on this path. You are on the side of creative writing students and English professors, as well as war reporters and theologians.
Read and write daily and build a powerful writer-editor relationship to get all the tools you need to create great content.
Don't be too strict with yourself at first. In the coming years, you will indeed look back on some of your previous efforts with a bitter smile as you see how far you have come. But for now, it's just you, the keyboard, and the blank pages.
Source:
This post inspired on SEMRush Article – How to Become a Better Writer: 16 Expert Tips?